About Us
Top 1 Pizza is a Pizza takeaway in Cardiff. Why don't you try our Spicy Chicken Pizza or Vegetarian Pizza?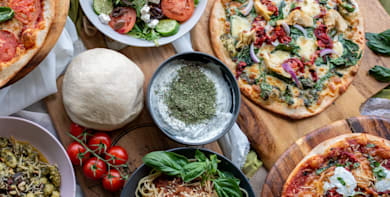 Reviews
130 reviews
Tony
"Always good food, on time and tasty! Thanks again guys 👍👍"
20/02/2021
Craig
"All round fantastic order. Hot and crunchy fries and tasty pizza 😁"
14/02/2021
Claire
"4th order - all amazing!!! 🙏 thank you"
13/02/2021
Benyamin
"Thanks, food is so nice 👌👌👌👌"
31/01/2021
Menu
Ben & Jerry's Ice Cream (500ml)
Please write your chosen flavour in the comments box
£5.99
Tandoori Chicken - Topping
Barbecue Chicken - Topping
Chicken Donner Kebab - Topping
Jalapeno Peppers - Topping
1st Pizza Topping Turkey Ham
1st Pizza Topping Spicy Beef
1st Pizza Topping Plain Chicken
1st Pizza Topping Spicy Chicken
1st Pizza Topping Tandoori Chicken
1st Pizza Topping Barbecue Chicken
1st Pizza Topping Pepperoni
1st Pizza Topping Donner Meat
1st Pizza Topping Chicken Donner
1st Pizza Topping Meatballs
1st Pizza Topping Garlic Sausage
1st Pizza Topping Green Chilli
1st Pizza Topping Jalapeno Peppers
1st Pizza Topping Sweetcorn
1st Pizza Topping Extra Cheese
1st Pizza Topping Green Peppers
1st Pizza Topping Fresh Tomatoes
1st Pizza Topping Garlic & Herbs
1st Pizza Topping Black Olives
1st Pizza Topping Pineapple
1st Pizza Topping Mushrooms
1st Pizza Topping Red Onions
1st Pizza Topping Anchovies
2nd Pizza Topping Turkey Ham
2nd Pizza Topping Spicy Beef
2nd Pizza Topping Plain Chicken
2nd Pizza Topping Spicy Chicken
2nd Pizza Topping Tandoori Chicken
2nd Pizza Topping Barbecue Chicken
2nd Pizza Topping Pepperoni
2nd Pizza Topping Donner Meat
2nd Pizza Topping Chicken Donner
2nd Pizza Topping Meatballs
2nd Pizza Topping Garlic Sausage
2nd Pizza Topping Green Chilli
2nd Pizza Topping Jalapeno Peppers
2nd Pizza Topping Sweetcorn
2nd Pizza Topping Extra Cheese
2nd Pizza Topping Green Peppers
2nd Pizza Topping Fresh Tomatoes
2nd Pizza Topping Garlic & Herbs
2nd Pizza Topping Black Olives
2nd Pizza Topping Pineapple
2nd Pizza Topping Mushrooms
2nd Pizza Topping Red Onions
2nd Pizza Topping Anchovies
Chicken Fillet Burger 1/4lb
£4.00
Chicken Fillet Burger 1/4lb Meal
£5.50
Chicken Fillet Burger 1/2lb
£5.00
Chicken Fillet Burger 1/2lb Meal
£6.50
Chicken Steak Burger 1/4lb
£3.50
Chicken Steak Burger 1/4lb Meal
£5.00
Chicken Steak Burger 1/2lb
£4.50
Chicken Steak Burger 1/2lb Meal
£6.00
Hawaiian Burger 1/4lb Meal
£5.50
Hawaiian Burger 1/2lb Meal
£6.50
Doner Kebab Burger 1/4lb Meal
£5.00
Doner Kebab Burger 1/2lb Meal
£6.00
Veggie Burger 1/4lb
Vegetarian
£3.50
Veggie Burger 1/4lb Meal
Vegetarian
£5.00
Veggie Burger 1/2lb
Vegetarian
£4.50
Veggie Burger 1/2lb Meal
Vegetarian
£6.00
Monster Burger - 1/2lb
Beef burger, chicken steak, donner, 3 cheese slices & salad
£6.00
Monster Burger - 1/2lb Meal
Beef burger, chicken steak, donner, 3 cheese slices & salad
£7.50
Margherita Pizza 09" Medium
Cheese & tomato
Vegetarian
£11.99
Margherita Pizza 12" Large
Cheese & tomato
Vegetarian
£14.99
Margherita Pizza 14" Family
Cheese & tomato
Vegetarian
£17.99
Hawaiian Pizza 09" Medium
Pineapple & turkey ham
£13.99
Hawaiian Pizza 12" Large
Pineapple & turkey ham
£16.99
Hawaiian Pizza 14" Family
Pineapple & turkey ham
£20.99
Farm House Pizza 09" Medium
Mushroom & double turkey ham
£13.99
Farm House Pizza 12" Large
Mushroom & double turkey ham
£16.99
Farm House Pizza 14" Family
Mushroom & double turkey ham
£20.99
Vegetarian Pizza 09" Medium
Mushroom, red onions, green peppers, sweetcorn & fresh tomato
Vegetarian
£13.99
Vegetarian Pizza 12" Large
Mushroom, red onions, green peppers, sweetcorn & fresh tomato
Vegetarian
£16.99
Vegetarian Pizza 14" Family
Mushroom, red onions, green peppers, sweetcorn & fresh tomato
Vegetarian
£20.99
Vegetarian Hot Pizza 09" Medium
Mushroom, onions, jalapenos & green chillies
Hot
Vegetarian
£13.99
Vegetarian Hot Pizza 12" Large
Mushroom, onions, jalapenos & green chillies
Hot
Vegetarian
£16.99
Vegetarian Hot Pizza 14" Family
Mushroom, onions, jalapenos & green chillies
Hot
Vegetarian
£20.99
Hot & Spicy Pizza 09" Medium
Pepperoni, jalapenos, red onions, spicy beef & green peppers
Hot
£13.99
Hot & Spicy Pizza 12" Large
Pepperoni, jalapenos, red onions, spicy beef & green peppers
Hot
£16.99
Hot & Spicy Pizza 14" Family
Pepperoni, jalapenos, red onions, spicy beef & green peppers
Hot
£20.99
Meat Feast Pizza 09" Medium
Pepperoni, salami, turkey ham & spicy beef
£13.99
Meat Feast Pizza 12" Large
Pepperoni, salami, turkey ham & spicy beef
£16.99
Meat Feast Pizza 14" Family
Pepperoni, salami, turkey ham & spicy beef
£20.99
Pepperoni Feast Pizza 09" Medium
Double cheese & double pepperoni
£13.99
Pepperoni Feast Pizza 12" Large
Double cheese & double pepperoni
£16.99
Pepperoni Feast Pizza 14" Family
Double cheese & double pepperoni
£20.99
Meatball Plus Pizza 09" Medium
Meatballs, pepperoni & extra cheese
£13.99
Meatball Plus Pizza 12" Large
Meatballs, pepperoni & extra cheese
£16.99
Meatball Plus Pizza 14" Family
Meatballs, pepperoni & extra cheese
£20.99
House Special Pizza 09" Medium
Barbecue base, spicy chicken, tandoori chicken, salami, pineapple, garlic & herb
£13.99
House Special Pizza 12" Large
Barbecue base, spicy chicken, tandoori chicken, salami, pineapple, garlic & herb
£16.99
House Special Pizza 14" Family
Barbecue base, spicy chicken, tandoori chicken, salami, pineapple, garlic & herb
£20.99
Mixed Grill Pizza 09" Medium
Donner, chicken donner, onion & jalapenos
£13.99
Mixed Grill Pizza 12" Large
Donner, chicken donner, onion & jalapenos
£16.99
Mixed Grill Pizza 14" Family
Donner, chicken donner, onion & jalapenos
£20.99
Tandoori Chicken Pizza 09" Medium
Tandoori chicken, mushroom, red onions, green peppers & jalapenos
Hot
£13.99
Tandoori Chicken Pizza 12" Large
Tandoori chicken, mushroom, red onions, green peppers & jalapenos
Hot
£16.99
Tandoori Chicken Pizza 14" Family
Tandoori chicken, mushroom, red onions, green peppers & jalapenos
Hot
£20.99
BBQ Special Pizza 09" Medium
Barbecue base, barbecue chicken, pepperoni, red onions, green peppers, garlic & herb
£13.99
BBQ Special Pizza 12" Large
Barbecue base, barbecue chicken, pepperoni, red onions, green peppers, garlic & herb
£16.99
BBQ Special Pizza 14" Family
Barbecue base, barbecue chicken, pepperoni, red onions, green peppers, garlic & herb
£20.99
Spicy Chicken Pizza 09" Medium
Spicy chicken, spicy beef, red onions & jalapenos
Hot
£13.99
Spicy Chicken Pizza 12" Large
Spicy chicken, spicy beef, red onions & jalapenos
Hot
£16.99
Spicy Chicken Pizza 14" Family
Spicy chicken, spicy beef, red onions & jalapenos
Hot
£20.99
After Burger Pizza 09" Medium
Chilli base, green chillies, spicy chicken, spicy beef, red onions & jalapenos
Hot
£13.99
After Burger Pizza 12" Large
Chilli base, green chillies, spicy chicken, spicy beef, red onions & jalapenos
Hot
£16.99
After Burger Pizza 14" Family
Chilli base, green chillies, spicy chicken, spicy beef, red onions & jalapenos
Hot
£20.99
Seafood Pizza 09" Medium
Tuna, anchovies, prawns & sweetcorn
£13.99
Seafood Pizza 12" Large
Tuna, anchovies, prawns & sweetcorn
£16.99
Seafood Pizza 14" Family
Tuna, anchovies, prawns & sweetcorn
£20.99
Top 1 Special Pizza 09" Medium
BBQ base, spicy beef, turkey ham, mushroom, red onion & sweetcorn
£13.99
Top 1 Special Pizza 12" Large
BBQ base, spicy beef, turkey ham, mushroom, red onion & sweetcorn
£16.99
Top 1 Special Pizza 14" Family
BBQ base, spicy beef, turkey ham, mushroom, red onion & sweetcorn
£20.99
Free Choice Pizza 09" Medium
Any 4 toppings of your choice
£13.99
Free Choice Pizza 12" Large
Any 4 toppings of your choice
£16.99
Free Choice Pizza 14" Family
Any 4 toppings of your choice
£20.99
Calzone 09" Medium
Crispy pizza folded & filled with cheese & 3 toppings of your choice
£13.99
Calzone 12" Large
Crispy pizza folded & filled with cheese & 3 toppings of your choice
£16.99
Calzone 14" Family
Crispy pizza folded & filled with cheese & 3 toppings of your choice
£20.99
Breaded Mozzarella Sticks - 06 Pieces
£4.00
Chips, Cheese, Beans & Dips
£3.99
Chicken Nuggets - 08 Pieces
£3.20
Chicken Nugget & Fries - 08 Pieces
£4.20
Chicken Popcorn - 01 Portion
£3.99
Chicken Strips - 05 Pieces
£3.99
Garlic Mushrooms - 10 Pieces
£2.50
Jalapeno Cream Cheese - 05 Pieces
£3.99
Mixed Salad
Cucumber, lettuce, tomato, olives, onion & sweetcorn
£2.00
Potato Wedges with Cheese & Dip
£4.00
Hummus with Pitta Bread & Salad
£2.50
Single Pizza Deal 09" Medium
£6.99
Single Pizza Deal 12" Large
£8.99
Single Pizza Deal 14" X-Large
£10.99
Deal 1
Regular 09" pizza with 4 toppings, 4 pieces garlic bread, coleslaw, fries & a can of drink
£11.99
Deal 2
2 regular 09" pizza with 4 toppings,  2 fries, coleslaw & 2 cans of drink
(Please write your last choice of drinks in the comments box)
£16.99
Deal 5
Large 12" pizza with 4 toppings, 2 medium donner kebabs, 10 pieces onion rings & 2 cans of drink
£21.99
Deal 6
Regular 09" pizza with 4 toppings, 4 pieces chicken strips, 10 pieces onion rings & 2 cans of drink
£13.99
Donner Deal 1
Medium chicken donner or donner kebab, fries, coleslaw & a can of drink
£7.99
Chicken Doner Kebab Medium
£5.00
Chicken Doner Kebab Large
£6.00
Chicken Doner Kebab with Fries Medium
£5.50
Chicken Doner Kebab with Fries Large
£6.50
Doner Kebab with Fries Medium
£5.50
Doner Kebab with Fries Large
£6.50
Mixed Doner Kebab with Fries Medium
£6.00
Mixed Doner Kebab with Fries Large
£7.00
Doner Kebab with Garlic Pizza Bread - Large
£7.00
Chicken Doner Kebab with Garlic Pizza Bread - Large
£7.00
Mixed Doner Kebab with Garlic Pizza Bread - Large
£7.50
Kids Chicken Popcorn, 4 Pieces Onion Rings
Fries & kids drink
£5.00
Kids 4 Pieces Chicken Strips
Fries & kids drink
£5.50
Kids 4 Chicken Nuggets, 4 Onion Rings
Fries & kids drink
£5.00
Kids 09" Pizza with 2 Toppings - 2 Pcs Chicken Nuggets
4 pieces chicken nuggets, fries & kids drink
£7.99
Traditional Garlic Bread with Cheese
£3.00
Garlic Pizza Bread 09" with Cheese
£4.50
Cheese Tomato Garlic Pizza Bread
£6.00
Mushroom Garlic Pizza Bread with Cheese
£6.50
Donner Kebab Wrap - Single
£4.00
Chicken Kebab Wrap - Single
£4.00
Chicken Kebab Wrap - Meal
£5.50
Mixed Kebab Wrap - Single
£4.00
Contact Us
Find Us
128 Whitchurch Road, Cardiff, CF143LZ
We deliver to
CF10, CF11, CF14, CF15, CF23, CF24, CF3, CF5